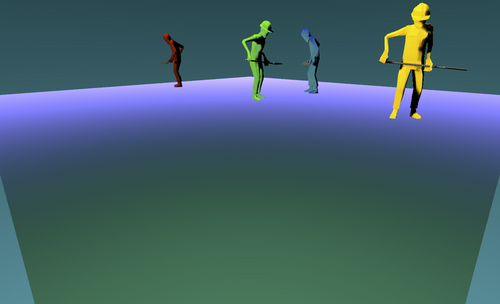 Had a blast finishing this idea for the AGJam 2020! I think this is as far as I'll get for now. Added four ambient music beds to be "dug up" by the Soundscavators in game. Their position in space determines the volume and spatialization of each track.
I think this idea could go a lot of different ways. Got a suggestion to use multiple shovel "clink" sounds and cycle them based on position. That'd also be a handy way to tune these sounds to the ambient music beds.
My ultimate goal was to use Fmod to influence a dynamic score. Doing this with four characters might be a little more complicated than just one but I'll keep researching and perhaps make updates to this idea!
My other thought is to adapt this to the OP-Z app for Teenage Engineering's OP-Z users. For those unfamiliar it's a fun little synth that communicates with your ios device via bluetooth. I think I can get these characters to drive parameters on the OP-Z itself which may be a unique aspect as most of the OP-Z visual packs are only for music reactive visual effects and not the other way around.
Files
Soundscavate_Test2.zip
Play in browser
44 days ago